"Success is no longer about changing strategies more often, but having the agility to execute multiple strategies concurrently. And success requires CEOs to develop the right leadership capabilities, workforce skills, and corporate cultures to support digital transformation." - Pierre Nanterme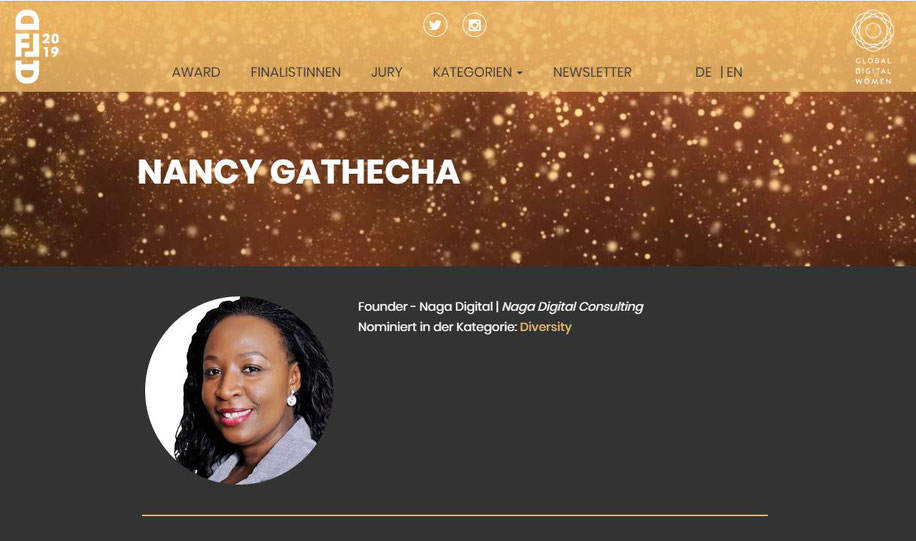 The Digital Female Leader Awards is an initiative of Global Digital Women that happens annually in Germany. The Awards make the stories and career paths of women in the digital economy visible by highlighting female founders and designers who are driving sustainably forward and shaping digitization in companies, politics and society.
With several categories such as: Career, Digital Transformation, Diversity, Education, Entrepreneurship, FinTech/Money, Global Hero, Health, Innovation, IT-Tech, Lifestyle, Mobility, Money, New Work, Science, Social Hero, Sustainability or the Audience Award, there were three finalists in each category and the winner will be announced at the awards ceremony on 30th November in Bonn, Germany.
I was nominated in the Diversity category and although I didn't make the finalist list (this year), it was such an honour and pleasure to be among amazing female leaders who are making an impact in their areas of influence and expertise.
A HUGE THANK YOU to everyone who voted for me. Your support was much appreciated.
Reading this and curious to learn more about the #DFLA? Feel free to read more about the initiate and my nomination here: https://digital-female-leader.de/en/bewerberinnen/nancy-gathecha/
We all want to win in life, but being part of something bigger that ourselves is also an amazing learning experience. That's why I did a podcast with some takeaways on the experience. You can listen to episode 85 on my lifestyle blog.
Ready to attract, build, and convert your audience online?
Hire this consultant to optimize your digital content strategy.
Contact me today and let's talk about your brands' needs and objectives.
---
SHARE THIS POST USING THE ICONS BELOW.
---
 Have your say, share your thoughts below.